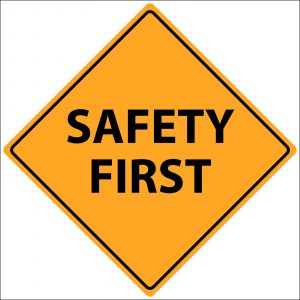 "SAFETY IS FIRST AND MUST FOR ALL"
Chemistry laboratories are potentially dangerous workplaces, where researchers, staff and students are involved with the handling of some potentially toxic, flammable and explosive compounds, abnormal temperature and pressure conditions and research equipment. Therefore, there is a significant risk for error and any mishappenings. However, with proper precautions and experience, even toxic chemicals can be handled without any accident. With proper awareness for safe working practices to associated members working in chemistry laboratories, we can ensure a "Safe and healthy" working environment for all the members associated with the Discipline of Chemistry.
Here we provide some general guidelines to encourage safe working practices in our laboratories. These guidelines remind us to work in a safer way and are applicable to all users of the laboratory. For any concerns relating to safety issues at the Discipline of Chemistry, members of the Chemistry Safety Committee can be contacted:
| Name | Position | Room No. | E-mail | Phone |
| --- | --- | --- | --- | --- |
| Dr. Chelvam Venkatesh | Convener | 1A-722 | cvenkat[at]iiti.ac.in | 3343 |
| Prof. Suman Mukhopadhyay | Member | 1D-305 | suman[at]iiti.ac.in | 3328 |
| Dr. Sampak Samanta | Member | 1D-419 | sampaks[at]iiti.ac.in | 3337 |
| Head, Chemistry | Member (Ex-officio) | 1D-404 | hodchemistry[at]iiti.ac.in | 3125 |
| DPGC, Chemistry | Member (Ex-officio) | | dpgcchem[at]iiti.ac.in | 3340 |
The Committee meets at least once a month followed by the inspection of the laboratories. The Committee also investigates and reports on all accidents in the department.