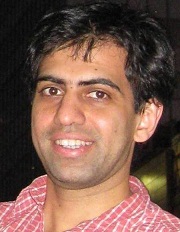 The Department of Chemistry at IIT Indore aims to provide exceptional training to all the students interested in cutting-edge research and education. The department's strength has been and continues to be excellence in research and teaching. Starting in August 2009, our department has been rapidly growing every semester in terms of size, research diversity, external funding and the number of publications. We currently have 20 faculty members and approximately 100 PhD students with research interests ranging from traditional areas (organic, inorganic, physical, and theoretical/computational) to highly interdisciplinary and collaborative research areas such as nanotechnology, polymers, biochemical, materials and analytical.
The faculty members of the department are extremely well qualified and motivated with a strong commitment to teaching and research. Our department is well equipped with state-of-art sophisticated instrumentation facilities to facilitate research in almost all areas of chemistry and interdisciplinary research. The main source of external funding comes from CSIR (Council of Scientific and Industrial Research) and DST (Department of Science and Technology).
The alumni base of the department is slowly increasing, and many of them have occupied research (postdoctoral) positions in academia, in India and abroad. Their accomplishments have been outstanding and reflect the quality training imparted at the undergraduate and graduate levels.
We have an M.Sc. (Master of Science) degree program in Chemistry from the academic year of 2013. We suggest all prospective students and visitors explore our website to learn more about our department.
Dr. Tushar Kanti Mukherjee
Head, Department of Chemistry
Indian Institute of Technology Indore
Khandwa Road, Simrol
Indore 453552, India

e-mail: hodchemistry@iiti.ac.in
Phone: +91 0731 660 3125
Chemistry Office: +91 0731 660 3340
Fax: +91 7324 306 933
Former Heads of Department of Chemistry
Prof. Suman Mukhopadhyay
(2010-2012)
Prof. Rajneesh Misra
(2012-2013)
Dr. Chelvam Venkatesh
(2013-2015)
Dr. Satya S. Bulusu
(2015-2018)
Dr. Amrendra K. Singh
(2018-2020)
Prof. Biswarup Pathak
(2020-2023)